?
WHO WANTS TO HAVE A HUGE
?SPACE?SAVER?FOR?THOSE?LONG?ROAD?TRIPS?!??
You're traveling in the car with friends and family and everyone needs to use the cup-holders for their drinks. However, there simply aren't enough holders for everyone, so someone gets stuck holding their drink (which makes spills more likely).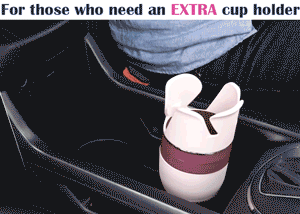 Now you can avoid that problem with this Multi-purpose Car Cup Holder! It can hold up to four drinks at once, easily! It can also store smaller items such as car keys, pens, cards, money, and cell phones! And it conveniently twists back into a snug, single cup holder if necessary. Now everyone can be happy, especially you (because you won't have to hear complaining, or clean up any mess)!
The
Multi-purpose Car Cup Holder
?
is perfect for adding more helping hands in your car, gives you a nifty spot for your sunglasses, phone, and other belongings you may lose with other storage.?Its just a perfect addition to your car.?
?FEATURES:
Effectively store all kinds of personal belongings, such as cell phone, pens, business card, glasses: the top layer is for phone, sunglasses, pen, 2 layers holder for beverages, bottom layers for small stuff such as keys, coins, etc.
360Rotation Layer: 360 rotation for top 3 layers increase more space to hold drinks and easy to save.
Rubber cup body cover, designed to keep your drinks stable during driving on a rough road.
It is universal to most cars, save spaces and keep your car organized always.
Made with fine craftsmanship. It's designed to be strong and durable to endure the heavy beverages.?
Easy to assemble and easy to clean.
The cup stacker sits firmly into the cup holder, securing all the drinks while driving and safe to use.
Our Multi-purpose Car Cup Holder?is the ultimate cup holder?organizer for your car. The stand fits snugly in your car's cup holder?and slides open to reveal multiple holders for your drinks, phone, and sunglasses. Every car needs one!
Click the BUY IT NOWa?Button to secure yours today!

*Very Limited Items Remaining In Stock! Not sold in stores*

100% Money Back Guarantee